The skill implements 129 intents, 94 of which are free to use with 35 requiring a subscription. The Command Reference section denotes premium commands with an asterisk after the name, but basically any commands starting with 'Play' fall into this category. Note that the 'Stream' equivalents are free to use.
The activation is handled as an In-Skill Purchase (ISP) which is managed entirely by voice. There is no minimum contract period and subscriptions can be cancelled at any time. Ask "Alexa, how do I enable voice purchasing" for help.
To access premium commands, just say "Alexa, tell MediaServer I want a subscription". She'll explain the applicable pricing structure for your regional Amazon account and ask for a verbal yes/no confirmation (plus your voice PIN code if you enabled that) so you can safely experiment with the ISP process without actually committing.
First-time subscribers can access a free 7-day trial. Thereafter, the credit card associated with your Amazon account will be billed monthly but you can cancel at any time. Just say "Alexa, tell MediaServer I want to cancel my subscription".
---
Availability in your Region
If you attempt to subscribe but receive a message along the lines of "sorry, this content is not available for purchase in your country…" you can very easily temporarily set your Amazon marketplace for Digital Content (a.k.a. Kindle)[1] to .com (or .co.uk) to enable the skill and then subscribe. Don't worry — you can change it back again when finished, and the subscription stays intact after reverting.
To make the change, go to your 'own' Amazon URL (e.g. amazon.nl) and under Your Account, select Manage your Content and Devices: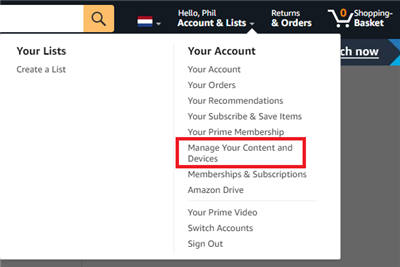 Then select Preferences:



and click on Country/Region Settings to fold it out. You'll see:



It's worth clicking on the link 'click here to learn more about other Amazon sites you are eligible to shop on based on your country/region of residence' to see if you're already 'allowed' to set your content-store to .com or .co.uk. If so, you're done already, if not then there's an extra step:
For .com, click the Change button and then under Enter new address type e.g. the particulars of Amazon's HQ at 410 Terry Ave N, Seattle 98109, Washington, USA, phone 206 266 1000 (any valid US address is acceptable and Amazon's helpdesk have confirmed this is allowed):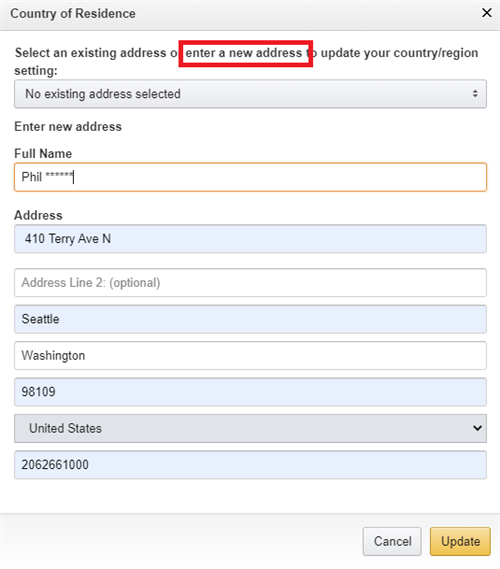 If you would prefer to target .co.uk, under Enter new address type e.g. the particulars of Amazon's AWS London office at 60 Holbourn Viaduct, London EC1A 2FD, Middlesex, United Kingdom, phone 020 7084 7911 (any valid UK address is acceptable and Amazon's helpdesk have confirmed this is allowed):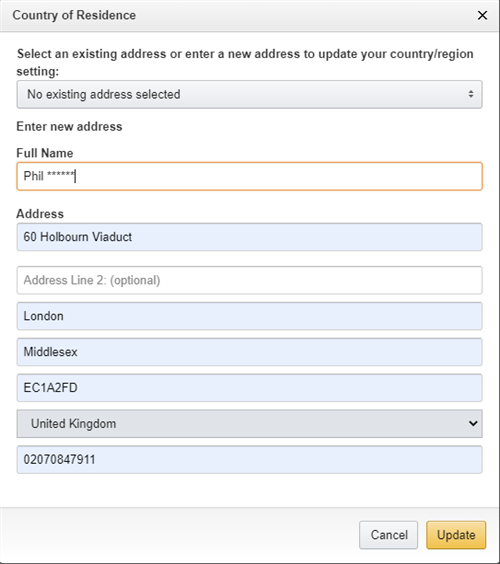 After pressing 'Update', you'll see an 'are you sure?' screen like this: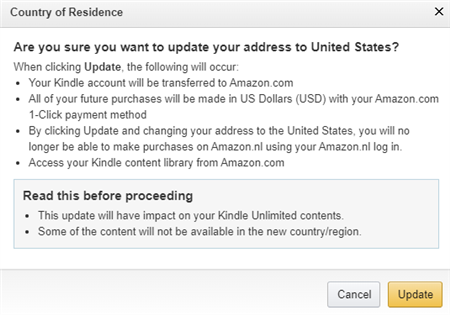 The text sounds a little off-putting but remember that this is only for Digital Content and not regular shopping. You can very easily change things back to the way they were because you won't replace your existing Amazon details with this new address, you'll just add an extra choice and create a new 'bucket' for Digital Content that will co-exist with your 'old' one. Go ahead and select 'Update' and you should see confirmation:



Your changes may trigger a banner message (which you can ignore) about you being able to shop for content on your 'own' local Amazon domain (proof that Amazon still 'knows' you at your own domain):



Note that to change back again, you will need to do so via Manage your Content and Devices at the new Amazon domain and not from your 'own' domain.[2]
When you now go to the Alexa app or web-portal[2], don't panic if you no longer see any installed skills from your 'own' store. They will reappear when you change back (verified). MediaServer will likely not yet be installed at your new domain because you tried it first at your 'own' domain. Search for it at your 'new' store and install — the prior account linking should stay intact but if not then go ahead and link.
Any new attempt at subscribing should now succeed and the subscribed state should survive transitioning back to your 'own' store.
---